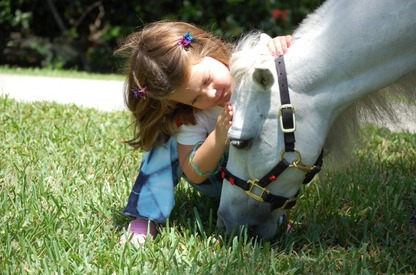 In our equine assisted psychotherapy approach, we utilize an experiential brief therapy approach to help develop and strengthen individuals, couples and families. It is our belief that each person has a unique ability for positive change and that often the quickest and most effective route to making that change is through learning by doing. We bring trained, credentialed professionals with extensive experience in helping individuals, children (age 8 and older), couples and families into a non-clinical, relaxed setting where we believe those individuals and families can best learn to thrive.
Equine Assisted Psychotherapy creates a context for clients to discover, through interactions with the horses, strengths, resources, and unique perspectives regarding their personal experiences and relationships.  The therapist assumes a collaborative role that allows for a different kind of conversation to emerge—one that highlights the clients' own wisdom as demonstrated through their relationship to the horse. Engaging with horses allows clients to explore how they develop trust, manage anxiety and deal with uncertainty. Clients can often move more quickly and dramatically through the equine therapeutic process and experience changes in their relationships and their everyday responses to challenging situations. Further, working outside with horses is, for many, a much less threatening and stigmatizing process than working with a therapist in a clinical setting. 
We offer our services to those who wish to do all of their work with us, or we will collaborate with your current provider to offer supplementation to your work elsewhere. We are happy to discuss what your needs are and how we might be able to help.